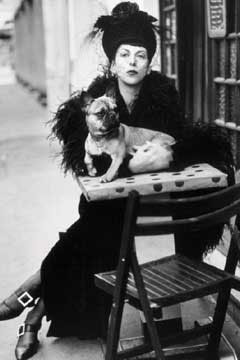 Hay días que, aunque el sol brille con fuerza, son un poco más tristes que los demás.
Me produce una enorme tristeza cada vez que me entero de la muerte de alguien que, poniendo su granito de arena, haya aportado algo para hacer que este mundo sea un lugar más hermoso.
Ha muerto Isabella Blow, una fascinante y estrafalaria británica que a mí personalmente me encantaba.
Con su estilo, su talento, su gusto innovador, y su forma de ser, ha sido una persona auténticamente original. De esas de las que de verdad hacen falta (y se echan de menos) frente a tanta monotonía y falta de originalidad, como lamentablemente imperan en este cada vez más aburrido mundo.
Personas como ella se recordarán siempre.
R.I.P.
"Isabella Blow's husband Detmar confirmed this morning that the 48-year-old fashion guru lost her battle with ovarian cancer in the early hours of Sunday morning at the Gloucestershire Royal Hospital. The news has shocked the international fashion world, for whom Isabella has been a bastion, credited with the discovery of such successful figures as Alexander McQueen, Philip Treacy, Sophie Dahl and Stella Tennant. "She was a ray of sunshine," said Detmar, of the woman he proposed to just 16 days after meeting her at a wedding in 1988 before marrying her the following year. "She was a beautiful, brave woman; indefatigable, courageous and brilliantly intellectual." Blow, who recently underwent surgery to remove a tumour, had been confined to hospital for some time but her husband said he had still been hopeful of a recovery. "She was original, impactful, generous-minded and spotted some of the greatest talents," said Geordie Greig, editor of Tatler magazine for which Blow was still working as a contributing editor. "She was the most intelligent and creative person in fashion. In many ways she was the British queen of fashion. She was intoxicating. You could never get enough of her. She was a free spirit." Philip Treacy, whose hats Isabella was rarely seen without, also paid tribute from the Blow country home this morning: "She was a great champion of young people," he said. "She came from the establishment but she was a punk at heart. Her love was talent, rather than money. Her ethos was beauty and elegance. And her encouragement was rare." (May 8 2007, AM)"